Author: Pil (Peter) S Kang, MD; Chief Editor: James G Smirniotopoulos, MD
more...
(See the images below.)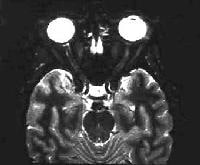 A 43-year-old woman with acute vision loss and eye pain. No prior neurologic symptoms were noted. Axial, short tau inversion recovery (STIR) image demonstrates faint increased signal in the distal left optic nerve.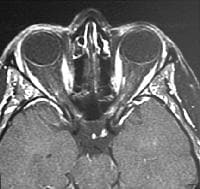 A 35-year-old woman with acute onset of left-eye pain and vision decline. Axial, fat-suppressed, postcontrast, T1-weighted image demonstrates enhancement in the intracanalicular portion of the left optic nerve.
Preferred examination
CONTINUE Reading