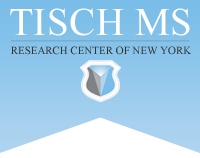 What: Tisch MS Research Center of New York
17th Annual MS Patient Education Symposium
Where: New York Hilton Midtown
When: Sunday, October 19th, 2014
This FREE event is open to patients, their families and
caregivers. Registration is required.
About the Annual MS Patient Education Symposium
The Tisch MS Research Center of New York Patient Education Symposium provides information for patients and their families on how to make decisions about trying new treatments, coping and managing symptoms of MS, maintaining a healthy diet, physical therapy and the importance of a strong support system. Our annual symposium provides a safe and comfortable environment for learning about the disease and the experiences of other patients. Moreover, MS researchers and care professionals are available throughout the day to answer specific questions. Our Annual MS Education Symposium continues to provide up-to-date information on all the latest treatments, as well as facts about promising treatments under study in clinical trials. In addition, we will present results from the ongoing research in our laboratory at the Tisch MS Research Center of New York.
ABOUT TISCH MS RESEARCH CENTER OF NEW YORK
For over twenty years, Dr. Saud A. Sadiq has believed that combining excellence in clinical care with innovative research targeted at finding the cure for multiple sclerosis would set an exemplary standard in the treatment of people with MS. Today, the Tisch MS Research Center of New York embodies this new model of healthcare, in which your doctor is also your researcher. Dr. Sadiq helps those with MS by conducting cutting-edge, patient-based research to ensure unparalleled care. The close relationship of the non-profit research center and its affiliated clinical practice (International Multiple Sclerosis Management Practice) enables the testing of new MS treatments and accelerates the pace at which research discoveries move from lab bench to bedside. The Tisch MS Research Center of New York aims to identify the disease trigger, optimize treatments for patients and repair the damage caused by multiple sclerosis.
~~~~~~~~~~~~~~~~~~~~
Keep CURRENT and up to date, with MS News and Information