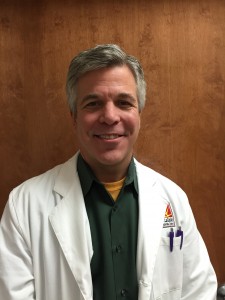 Imagine being only a two year old toddler and having your mom diagnosed with an invisible illness. As you grow up, you watch your mom fall down over and over while you're not strong enough to help her back up. Imagine feeling her embarrassment as she had yet another accident. Worst of all no one would talk about it because in that day and age, these things were not discussed.
Would that light a fire in you? If you had a third grade art project about how you would change the world, would you paint a test tube containing the cure for MS? Would that determination stay with you through your teenage years and illuminate the path to your college studies?
This is the story of Dr. Christopher LaGanke. From that little boy, he followed his passion to a neurology residency at University of Alabama Birmingham under Dr. Whitaker then on to open his own practice dedicated to solving the puzzle of invisible illnesses, like the MS that plagued his mother.
Throughout all the years of his practice, he has never forgotten the patient's voice that drove him. This is very evident from a national level as he, followed by his patients, advocated for the FDA approval of Lemtrada. I am honored today to sit down with Dr. LaGanke and talk about Lemtrada's approval.
Matt: Dr. LaGanke thank you for taking the time to meet with me to discuss the new treatment option for people living with MS, Lemtrada. What inspired you to take part in the Lemtrada trials?
Dr. LaGanke: When I watched my mother going through her struggles, I knew that I wanted to make a difference in the lives of people living with MS. I grew up in a time when you didn't talk about your feelings; you dealt with it on your own.
As I grew older and wiser, I wanted to help speak for people who didn't have a voice. I feel that part of that voice that I have is to evaluate new options as they evolve. What I saw with the results from the Lemtrada trial left me really impressed.
I saw two real benefits for MS patients; one was superior efficacy and the other was the infrequency of treatment. A person may only need the opportunity to take Lemtrada twice, instead of having their MS treatment be a frequent disruption in their life.
I was very eager to participate in the clinical trials and was very pleased with the outcomes. The most surprising thing to me was the patient satisfaction with Lemtrada. Not only their immediate satisfaction, but how they have continued being satisfied years after finishing their course of Lemtrada.
Matt: What did it mean to you to become the first physician to initiate treatment of Lemtrada for people living with MS?
It was very humbling and gratifying to be the first center in the US to administer Lemtrada commercially. Gratifying because of how hard so many worked to try to reverse the FDA decision. When the initial rejection occurred a year ago, I wrote a letter to all of my patients asking them to write a letter to congress to reconsider. I was very passionate about getting the patient's voice heard.
The response was overwhelming. My patients would come in and bring the letters back from congressmen and women. Everyone was excited to rally around the cause of getting Lemtrada approved, so that patients could have another treatment option for their unmet needs. One person who comes to mind, Stuart Schlossman, of
Stu's News and Views
, ran a very large petition and helped tremendously. It was amazing to have all these patients' voices pull together with a unified message that congress heard.
Matt: In layman's terms, could you explain to my readers what exactly Lemtrada is and how it works?
Click here to continue reading this interview with Matt Cavallo and Dr. Chris LaGanke