an similar article on this subject
found here
=================================
Stan Grossman
INDIANAPOLIS — For the first time since 2009, a group of experts have published revisions to the guidelines for magnetic resonance imaging (MRI) in multiple sclerosis (MS), which stress the need for a standardized protocol in the diagnosis and follow-up of this patient population. Details of the revised guidelines were provided in a presentation at the
Consortium of Multiple Sclerosis Centers 2015 Annual Meeting
.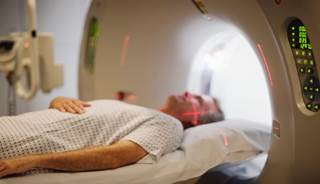 "Over the last 10 years, technology has improved such that we can get higher-quality imaging. As a result, if we can get people to use a standardized protocol, we can use that higher-quality imaging to accurately compare over time," lead guideline author Anthony Traboulsee, MD, of UBC Hospital in Vancouver, Canada, told Neurology Advisor. "There has also been more evidence that … new disease activity can influence treatment decisions [and] can let us know whether patients are on sufficient therapy or if they need an escalation of their therapy. That is probably the most dramatic change in the field — there is now more of a consensus that MRI is very useful and not just sort of useful."
According to guideline author David K.B. Li, MD, of the UBC MS/MRI Research Group and UBC Hospital in Vancouver, Canada, the goal of these new updates was to standardize as much as possible, given the limitations that there will be technical improvements.
"The aim was to make things as backwardly and forwardly compatible as possible, so that you can compare and be absolutely certain that a change in terms of a new abnormality is because there has been a change as opposed to anything technical," Li said.
In addition to reemphasizing the importance of obtaining the highest quality of images possible, the new set of guidelines also stress that scans should be obtained as similarly as possible from one study to the next. "In other words, [scans] should be reproducible in terms of brain coverage, so the whole brain needs to be covered and in terms of position of the scan," Li said.
A key change with the updates, he said, is that previously, physicians were allowed to obtain scans at a 5 mm slice thickness to save time. "But the change now with the most recent revision is that 3 mm is what is recommended," he said.
Another change involves the acquisition of scans in three rather than two dimensions, or volume instead of a slice.
"When you obtain in a volume, you can still determine the intervals of those planes under review," Li said. "The three-dimensional acquisitions tend to be obtained in 1 to 1.5 mm intervals — which is where the field is today."
Continue reading here