The material within this blog helps to Empower those affected by Multiple Sclerosis (MS) with educational information, news and community resources.
Be empowered with MS views and news. To receive The MS BEACON e-Newsletter, CLICK HERE - -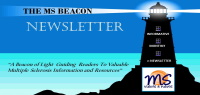 Visit our MS learning channel on YouTube, which provides hundreds of MS educational videos presented by MS Experts from across the USA. Archived here: www.youtube.com/msviewsandnews -- Also please visit our Social media platforms: Facebook, Twitter, and Instagram . Each providing important information for the MS community. Furthermore, scroll down the left side of this blog to learn from the resources and links.
Disclaimer: 'MS Views and News' DOES NOT endorse any products or services found on this blog. It is up to you to seek advice from your healthcare provider. The intent of this blog is to provide information on various medical conditions, medications, treatments, for your personal knowledge and to keep you informed of current health-related issues. It is not a substitute for the advice of your physician. Should you or your family members have any specific medical problem, seek medical care promptly.
~~~~~~~~~~~~~~~~~~~~~~~~~~~~~~~~~~~~~~~~~~~~~~~~~~~~~~~~~~~~~~~~~~~~~~~~~~~~~