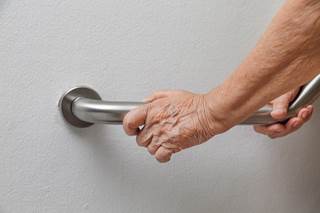 Patients with multiple sclerosis often report impaired mobility as a top concern.
Patients with
multiple sclerosis
have a disparity between their physiological risk of falling and their perceived risk of falling, both of which correspond to the risk for recurrent falls, according to a study published in
Archives of Physical Medicine and Rehabilitation
.
The study included 416 participants with multiple sclerosis of all subtypes. Physiological fall risk was assessed and scored using the Physiological Profile Assessment (PPA), and the perceived fall risk was assessed and scored using the Falls Efficacy Scale-international questionnaire (FESi). Retrospective assessments of fall incidence were done via interview, although prospective assessments were done using standardized daily diary sheets for recording falls.
Data analyses found that higher FESi and PPA scores increased the odds of participants being recurrent fallers [FESi odds ratio [OR] 1.05 (95% confidence interval [CI] 1.03-1.07), PPA OR 1.30 (95% CI 1.17-1.46)], with PPA being the superior predictor. In the low physiological and high perceived risk group, 37% of participants (n=63) were identified as recurrent fallers. Some of these participants may have had additional physical risk factors such as spasticity, impaired gait, and dual task interference, which are not included in the PPA, making their scores less predictive of falls.
More than half of the high physiological and low perceived risk group (10% of total participants) reported no falls,
:::::::::::::::::::::::::::::::::::::::::::::::::::::::::::::::::::::::::::::::::::::::::