The material within this blog helps to Empower those affected by Multiple Sclerosis (MS) with educational information, news and community resources.
Be empowered with MS views and news. To receive The MS BEACON e-Newsletter, CLICK HERE - -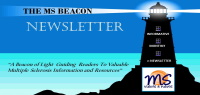 Visit our MS learning channel on YouTube, which provides hundreds of MS educational videos presented by MS Experts from across the USA. Archived here: www.youtube.com/msviewsandnews -- Also please visit our Social media platforms: Facebook, Twitter, and Instagram . Each providing important information for the MS community. Furthermore, scroll down the left side of this blog to learn from the resources and links.
Disclaimer: 'MS Views and News' DOES NOT endorse any products or services found on this blog. It is up to you to seek advice from your healthcare provider. The intent of this blog is to provide information on various medical conditions, medications, treatments, for your personal knowledge and to keep you informed of current health-related issues. It is not a substitute for the advice of your physician. Should you or your family members have any specific medical problem, seek medical care promptly.
~~~~~~~~~~~~~~~~~~~~~~~~~~~~~~~~~~~~~~~~~~~~~~~~~~~~~~~~~~~~~~~~~~~~~~~~~~~~~

Saturday, April 21, 2018
::::::::::::::::::::::::::::::::::::::::::::::::::::::::::::::::::::::::::::::::::::::::::::::::::::::::::::::::::::::::::::::::::::::::::::::::::::::::::::::::::::::::::::::::::::::::::::::::::::::::
Last Updated Apr 21, 2018
Multiple Sclerosis Youtube Channels List.
The Best
Multiple Sclerosis Youtube Channels
from thousands of Multiple Sclerosis Youtube Channels in our index using search and social metrics. We've carefully selected these youtubers because they are actively working to educate, inspire, and empower their audience with frequent updates and high-quality videos.
These Youtube Channels are ranked based on following criteria
Total youtube channels subscribers, video views, and video uploads

Quality and consistency of videos

Youtube search ranking

Feedspot editorial team' objective and subjective review
Top 40 Multiple Sclerosis Youtubers
CONGRATULATIONS to every youtuber that has made this Top Multiple Sclerosis Youtube Channels list! This is the most comprehensive list of best Multiple Sclerosis Youtube Channels on the internet and I'm honoured to have you as part of this! I personally give you a high-five and want to thank you for your contribution to this world.
============================================
====================================================
Friday, April 20, 2018
La
esclerosis múltiple
(EM) es una enfermedad del sistema nervioso que afecta al cerebro y la médula espinal. Lesiona la vaina de mielina, el material que rodea y protege las células nerviosas. La lesión hace más lentos o bloquea los mensajes entre el cerebro y el cuerpo, conduciendo a los
síntomas
de la EM.
Introducción
La esclerosis múltiple (EM) es una enfermedad del sistema nervioso que afecta al cerebro y la médula espinal. Lesiona la vaina de mielina, el material que rodea y protege las células nerviosas. La lesión hace más lentos o bloquea los mensajes entre el cerebro y el cuerpo, conduciendo a los síntomas de la EM. Los mismos pueden incluir:
Alteraciones de la vista
Debilidad muscular
Problemas con la coordinación y el equilibrio
Sensaciones como entumecimiento, picazón o pinchazos
Problemas con el pensamiento y la memoria
Nadie conoce la causa de la EM. Puede ser una enfermedad autoinmune, que ocurre cuando el cuerpo se ataca a sí mismo. La esclerosis múltiple afecta más a las mujeres que a los hombres. Suele comenzar entre los 20 y los 40 años. Generalmente, la enfermedad es leve, pero algunas personas pierden la capacidad para escribir, hablar o caminar. No existe una cura para la EM, pero las medicinas pueden hacer más lento el proceso y ayudar a controlar los síntomas. La fisioterapia y la terapia ocupacional también pueden ayudar.
LEE MAS
::::::::::::::::::::::::::::::::::::::::::::::::::::::::::::::::::::::::::::::::::::::::::::::::::::::::::::::::::::::::::::::::::::::::::::::::::::::::::::::::::::::::::::::::::::::::::::::::::::::::
MS Views and News
is MAKING an IMPACT
for those, affected by Multiple Sclerosis
MS Views and News provides Multiple Sclerosis education, information,
resources and services that will benefit many affected by MS.
SUBSCRIBE to our MS Learning Channel on YouTube
:
:::::::::::::::::::::::::::::::::::::::::::::::::::::::::::::::::::::::::::::::::::::::::
April 11, 2018, 06:26:00 PM EDT
By Zacks Equity Research, Zacks.com
Shutterstock photo
Mylan N.V.
MYL
announced that it has inked an agreement with Israel-based Mapi Pharma Ltd.
Both companies have teamed up for the development and commercialization of GA Depot, a long-acting Glatiramer Acetate product. Mylan also acquired the global marketing rights of the product.
We note that GA Depot is a proposed once-monthly injection for the treatment of patients with relapsing-remitting multiple sclerosis ("MS"), or RRMS. Mapi Pharma has completed an open-label phase II trial. The company is also preparing to commence phase III trials to support marketing applications. Both companies are preparing to submit an investigational new drug application to the FDA, as well as other global health authorities.
We remind investors that Mylan already has experience in the Glatiramer Acetate market.
In October 2017, Mylan launched the generic version of Teva's
TEVA
Copaxone 40 mg/mL which is indicated for the treatment of patients with relapsing forms of MS. Mylan's partner in Europe, Synthon, also received marketing authorization approval in Europe for Glatiramer Acetate Injection 40 mg/mL.
An estimated 2.3 million people on a worldwide basis are living with MS. Nearly 1 million people are living with MS in the United States. RRMS accounts for approximately 85% of initial MS diagnoses.
The deal with Mapi Pharma will further strengthen the company's presence in the MS market.
Keep up to date with MS news and views:
SUBSCRIBE to our MS Learning Channel on YouTube
:
Thursday, April 19, 2018
Click here to receive MS news via e-mail

Improving and Maintaining Function
It is an essential component of
comprehensive MS care
. From the time of diagnosis onward, rehabilitation specialists provide education and strategies designed to promote good health and overall conditioning, reduce fatigue, and help you feel and function at your best — at home and at work.
If symptoms begin to interfere with everyday activities, rehabilitation can address these problems — with mobility, dressing and personal care, driving, functioning at home and work, and participation in leisure activities. Rehabilitation experts can also provide evaluation and treatment of speech and swallowing difficulties, and problems with thinking and memory.
Contact the Society online
or call 1-800-344-4867 for more information or a referral to any rehabilitation specialist or other healthcare provider.
Physical therapists (PT) evaluate and address the body's ability to move and function, with particular emphasis on
walking and mobility
, strength, balance, posture,
fatigue
and
pain
. Physical therapy might include an exercise program, gait training and training in the use of mobility aids (canes, crutches, scooters and wheelchairs) and other assistive devices. The goal is to promote safety, achieve and maintain optimal functioning, and prevent unnecessary complications such as de-conditioning, muscle weakness from lack of mobility and muscle contractures related to spasticity. Physical therapy can also include pelvic floor exercises which may help address
urinary/bladder issues
.
The goal of occupational therapy (OT) is to enhance independence, productivity and safety in all activities related to personal care, leisure activities and
employment
. OTs provide training in energy conservation techniques and the use of adaptive tools and devices to simplify tasks at home and in the office. They recommend strategic modifications to the home and workplace to ensure accessibility and convenience. Occupational therapists also evaluate and treat problems with
thinking and memory
.
Neuropsychologists — as well as many OTs and SLPs — evaluate and treat changes in
a person's ability to think, reason, concentrate or remember
. While these professionals use different evaluation and treatment strategies, they share the common goal of helping people function optimally if cognitive changes are experienced.
Vocational rehabilitation
State vocational rehabilitation programs offer job readiness training, job coaching, job placement assistance, mobility training and assistive technology assessments — with the goal of helping people maintain their current employment or find new employment that accommodates their needs.
Speech-language pathology
The speech-language pathologist (SLP) evaluates and treats problems with
speech
and/or
swallowing
— both of which can result from damage in the central nervous system that reduces control of the muscles used in these important functions. The goal of therapy is to enhance ease and clarity of communication as well as promote safe swallowing and overall health. Some SLPs also evaluate and treat problems with thinking and memory.
Article source
MS Views and News
Providing educational information, resources and services for those affected by MS
Be an MS Champion, by helping to provide the Empowering knowledge we share.
To receive MS news and information, Opt-in here