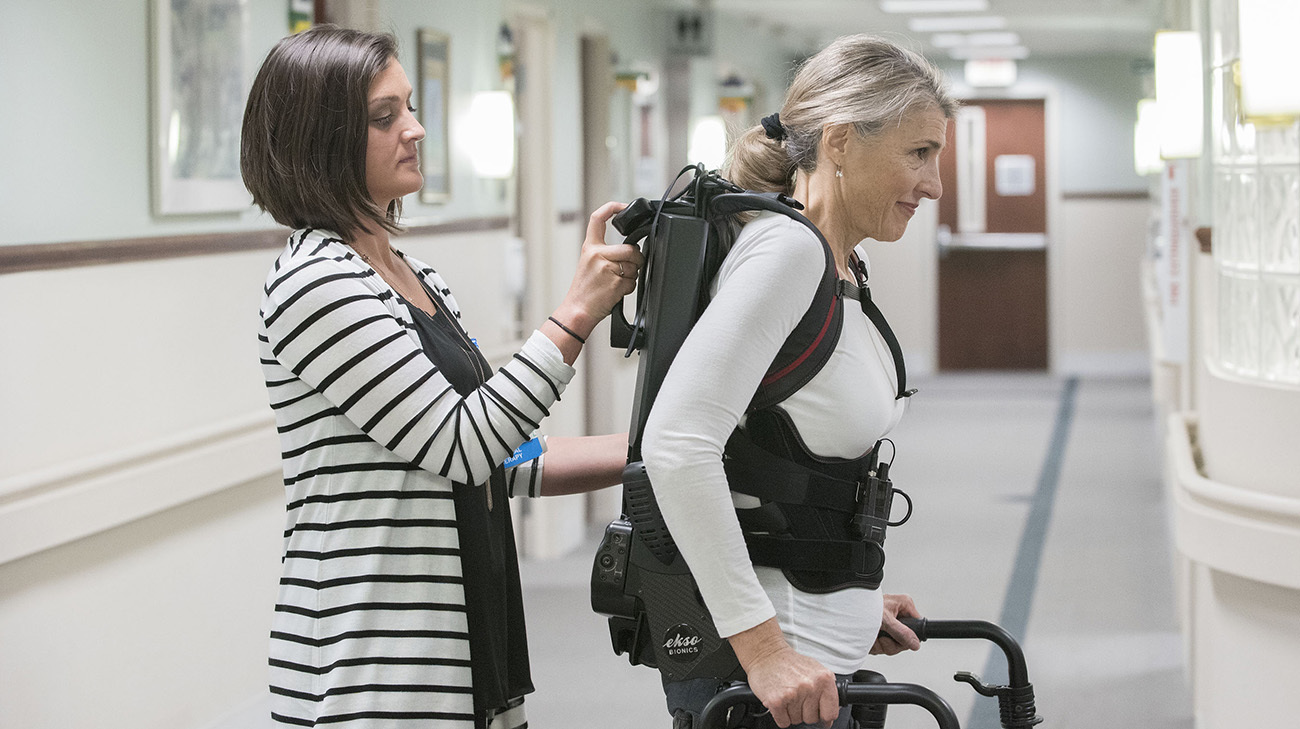 CLICK above photo to watch a video on the Exoskeleton
Click HERE to Register for the MS Beacon Newsletter
At age 56, Kathy Miska is fighting the devastating impact of
multiple sclerosis (MS)
on her ability to walk. A robotic device that attaches to her body during physical therapy (PT) – called an exoskeleton – is helping her to do just that.
Diagnosed 20 years ago with MS, the autoimmune disease that can negatively impact the central nervous system, Kathy has seen her symptoms worsen over time, especially in recent years.
"My walking speed has increased, my endurance has improved, my gait is more normal and I get intermittent periods of my leg getting signals from my brain," says Kathy.
While the device has Food and Drug Administration (FDA) approval for use in rehabilitation programs for patients with spinal cord injury and
stroke
, this is one of the first pilot studies to determine its potential efficacy for MS patients. It is funded by a generous donor and a
Cleveland Clinic Caregiver Catalyst Grant
.
"The idea is to use the exoskeleton as part of PT to hopefully achieve better results, particularly when the patients can't do much walking by themselves and can't (fully) exercise their legs," says
Francois Bethoux, MD
, Chair of
Cleveland Clinic's Department of Physical Medicine and Rehabilitation
and principal investigator of the study. "Just like with muscles, with the nervous system you 'use it or lose it.' The goal is that the patient will find it easier to walk even when they're not using the device."
To SEE how the exoskeleton works, CLICK HERE
...................................................................................................
::::::::::::::::::::::::::::::::::::::::::::::::::::::::::::::::::::::::::::::::::::::::::::::::::::::::::::::::::::::::::::::::::::::::::::::::::::::::::::::::::