By: Deborah Brauser
Black patients with multiple sclerosis (MS) or neuromyelitis optica spectrum disorder (NMOSD) may respond differently to common MS treatment compared to their White peers, new research suggests.
In a study of almost 200 patients, Black participants with MS or NMOSD showed significantly more rapid B-cell repopulation 6 to 12 months after receiving anti-CD20 infusion therapy with rituximab or ocrelizumab (Rituxan, Ocrevus, Genentech) than did White participants.
"The results showed that this B-cell targeted therapy wore off more quickly in African-Americans," study co-investigator Gregg J. Silverman, MD, NYU Grossman School of Medicine, NYU Langone Health, New York City, told Medscape Medical News.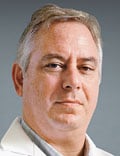 He said that although the study was more observational in design, "over time when people come back to the clinic, it gives you an idea of whether the agent is still working in their bodies."
Overall, "our findings raise the question of whether the same therapy dose may be equally effective for all people," co-investigator Ilya Kister, MD, also from NYU Langone Health, added in a press release.
Kister noted that this could have implications for the way Black patients with autoimmune diseases are treated in the future.
The results were released ahead of their presentation at the upcoming virtual American Academy of Neurology (AAN) 2021 Annual Meeting.
More Severe Disease in Black Patients
Anti-CD20 infusion therapy, or B-cell depletion therapy, is commonly used to treat autoimmune diseases, including MS and NMOSD.
"While previous research has shown that this type of infusion therapy is effective for people with these diseases, we also know that Black people tend to have more severe courses of MS," Kister said
"We wanted to compare how quickly the B cells came back in Black people and White people after treatment," he added.
Silverman noted that he has been "studying this agent in autoimmune disease for many years. And from all the different studies, I don't think we had the right population to ask this question. Demographics were just reviewed as they were," he said.
The current study included 168 participants (mean age, 44 years; 71% women) who had a diagnosis of MS (n = 134) or NMOSD (n = 32) or who were considered to have MS or NMOSD (n = 2). In addition, 36% of the participants self-identified as Black or African American, 36% self-identified as White, and 28% self-identified as another race.
Flow cytometry results were available for all patients after undergoing anti-CD20 infusions at the NYU MS Care Center. Cluster analyses were conducted on the following B-cell subsets: CD19, CD20, IgD, and CD27.
"B-cell repopulation was defined as any detectable number of CD19+ cells on flow cytometry," the investigators report.
Clinical Implications?
Results showed that 29.8% of the full study group showed B-cell repopulation a mean of 6.8 months after infusion.
In those with B-cell repopulation, 80.3% had IgD+/CD27– subsets, 11.6% had IgD–/CD27+, 6.2% had IgD–/CD27–, and 1.8% had IgD+/CD27+. These B-cell subset ratios did not differ significantly between the Black and White participants.
Interestingly, no patients showed B-cell repopulation before 4 months after infusion.
From 4 to 6 months after infusion, there were no significant differences between the Black and White participants in terms of frequency of B-cell repopulation (20.8% vs 17.9%, respectively; P = .79).
However, repopulation was significantly more frequent in the Black patients 6 to 12 months after infusion (76.2% vs 33.3%; P = .02).
Overall, the findings "may have implications for clinical management of MS/NMOSD" in Black individuals, write the investigators.
"I was impressed by the differences we saw in responses of patients that were self-declaring as African Americans vs those who were Whites," Silverman said.
However, "as we say in science: it gives us an answer but it raises even more questions, which may well be important for helping us understand how the agent works and how the disease affects different people," he added.
Still, Silverman noted that the findings give clinicians using the agent "a signal that they should be very vigilant. It was an observation at one center, but we're asking our colleagues [at other clinics] to think about being more careful as they review data with their patients."
He added that future multicenter studies will allow these issues to be assessed more comprehensively. "This was a discovery study; it now needs validation; and maybe the next step would be looking into the mechanism," he said.
Silverman pointed out that the US Food and Drug Administration–approved label for this type of therapy "allows for somewhat more frequent dosing. So that might be indicated if it's found that it's wearing off in an individual. Perhaps they should be treated more frequently?"
"At a minimum, this has raised our vigilance — and we're interested to see what the feedback will be at the [AAN] meeting," he added.
Source: https://www.medscape.com/viewarticle/949488#vp_2